The idea of a geological park as a tourist destination for non-professionals might seem bizarre. But wading through the images of the Yehliu Cape Park, in Taipei, is its desire to make us a ride.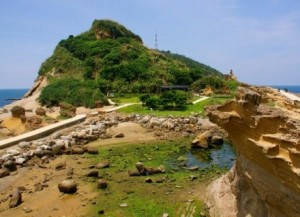 The protected area is a little over a mile and a half thousand feet but narrow. A small coastal strip where you can admire a beautiful stretch of beach, with rock formations really strange. The park can be divided into three areas: the area with rocks and stones mushroom fruit of their erosion, the one with the rock formations that resemble the head of the queen, the head of the dragon, and other famous heads and the last, worked by the waves have carved and shaped.
Wanting to explore the entire district, you can follow a tourist trail that winds through Yehliu, Jinshan Beach Park, Jinbaoli Old Street, Tiaoshih Coast, Shihmen Sea Arch, Linshanbi Cape, Baisha Bay, Sanzhi and Tamshui. A long coastline, located in the north of the island of Taiwan, which overlooks the East China Sea and offers many ideas for curious travelers.
The head of Yehliu can easily be reached by Taipei city with buses and express lines. The Park is open from May to September from 8 to 18, in winter closed at 17. Inside the park, for reasons of safety of visitors, it is forbidden to almost everything: swimming, fishing, touch the rocks, leave the trail and cross the red line…