Beyond the sea and gastronomy, Puglia offers visitors many places worth visiting throughout its territory. Among the castles, for example, there is the Aragonese of Taranto.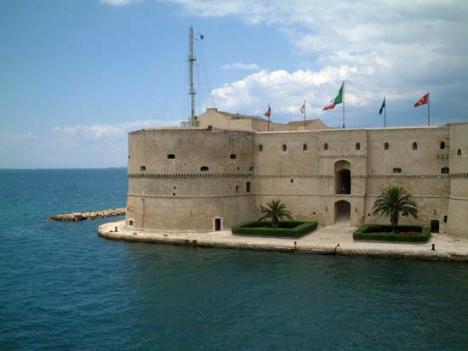 The Castel Sant'Angelo of Taranto, better known as the Aragonese castle, has a long history, as evidenced by recent excavations. The previous Greek, Byzantine and Norman-Swabian-Angevin structures are still legible and visible during the guided tour. The new Aragonese castle was rebuilt from period in the years between 1487 and 1492, according to new criteria imposed by the completion of the artillery. It seems that the reconstruction project, commissioned by the King of Naples, Ferdinand of Aragon, was made with the direct intervention or, more likely, indirect, of the great Sienese architect Francesco di Giorgio Martini. The characteristic cylindrical towers and interior walkways. Interesting Renaissance chapel of S. Leonardo inside.
The Aragonese Castle of Taranto is also an important cultural center that often hosts exhibitions and events of different kinds. It is open for free every day. There are eight rounds of visit lasts about 90 minutes and two in the morning and six of the afternoon and evening.
On a visit to Taranto, you might as well take the opportunity to see the National Archaeological Museum, where it is exposed, among other things, one of the largest collections of artifacts of the time of Ancient Greece, including the famous Gold of Taranto. The museum is open every day from 8:30 to 19:30.