Registered in UNESCO World Heritage, Goree Island offers its passengers a visit that remains etched in your memories, because it ensures that its tragic history is never forgotten…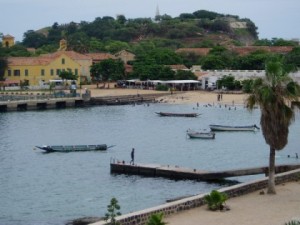 Located off Dakar, Senegal, one reaches the island of Goree in a rowboat, after a short twenty minute ride. A trip that have also made thousands of slaves in colonial times, and that leads to an island where traces of trafficking slave trade are still there to remind us of the horror of these facts.
The great celebrity, but sad celebrity, Goree Island is its "House of Slaves". Built around 1780 full time of colonization by European powers, this house is the symbol of black slavery, a monument to remember the terrible stories that happened there. "The door of no return" on the port, where the slaves embarked, goes for its comments, but there reigns an atmosphere that leaves severe imagine what happened there for centuries.
Despite this tragic legacy, put there to remind us of human folly, the Goree Island has another side to rebuild and grow a charming little village. With temperatures never falling below 17° C even in winter and maritime landscapes of great beauty, the island of Goree has everything to attract visitors.
So you can discover the architecture of this cultural city through his church, mosque, its fort which defended the island against invaders and museums: The Woman's Museum, Museum of the Sea (with over 750 species of fauna Sea), Historical Museum (devoted to Black Africa), are special monuments that you can explore the island of Goree. This charming island knows nothing as pleasing as much by its colorful buildings with colonial architecture homogeneous because of the symbolism of what it represents.
In Senegal, discover a city with a unique history in the world, to realize the seriousness of some of the history of our world.