Ideal for a change of air, full of historical monuments all more beautiful some than others, and especially to its reputation of famous city nightlife, the reasons we never want to go for a ride to Madrid.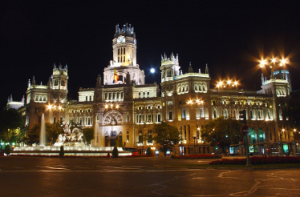 For a weekend or a week, the capital of Spain attracts you? Do not hesitate; go on vacation in Madrid as if you were at home. Day shopping or sightseeing, dinner in a small tapas bar, the specialty of Spain, then party until dawn in nightclubs, that quality time with prospects…
Madrid is truly a city that shows the best of itself only at night. Towards 22H, instead of to empty out, the nights animate themselves and the discos open. The feast begins and Madrid awakens to welcome you most warmly as possible. If you like nightlife, spin straight to Chueca neighborhood!
In Madrid, we can still stop on one of the squares of the city, where we find all the best features of the capital: beautiful architecture of buildings, tranquil ambiance of the cafes in the afternoon, restaurants in cuisine local shops of all kinds… The major arteries that lead to these places are also still very busy, a real treat for fans of urban stroll.
For Easter, have you not anything planned? How about a week in Madrid? Located in the heart of Spain, the capital abounds with historic buildings that have more than enough to fill all your days. Between museums that are no longer the reputation, large public parks and cathedrals a reverential beauty, Madrid to all the assets to fill the lovers of art and history. In the inevitable: the Prado Museum, Retiro Park, Royal Palace, the Basilica of San Isidro… and many more. And with that, know that the transports in the capital are very developed, so you can see everything without having to take your car!
Still not sure? At Easter, attend the Holy Week, the largest religious festival in Spain! Representative and processions led by brotherhoods invade the city streets in an atmosphere only really in the world. This is your chance to immerse yourself in Spanish culture and enjoy a week of disorientation.