Frank Gehry will not go unnoticed, and perhaps that "contaminates" the most important city in the world, creating his own works. In this case we are in Los Angeles, where he was born, artistically speaking, where he won the competition organized by Lillian Disney, widow of Walt, for the construction of a concert hall where the Philharmonic Orchestra and the Chorus of Los Angeles could perform.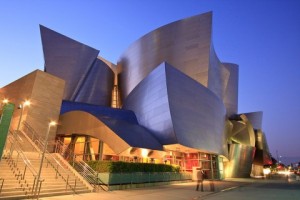 In the best traditions it took several years for its realization (in 1987 the competition, in 2003 the opening to the public), and also a lot of money (the costs went up along the way), but all from the private, led by Mrs. Lilian and the Walt Disney Company.
The Walt Disney Concert Hall is located at 111 South Grand Avenue, Downtown Los Angeles, within the complex of the Los Angeles Music Center, a must visit if you are there. Access is easy, parking is not a problem (and for $20 you can remove the itch to do so do the staff at the entrance) and all around Grand Avenue, there are several interesting places, compressed bars and trendy restaurants.