Throughout the year, Ireland offers, in addition to beautiful landscapes, a series of events and initiatives. There's something for all tastes, from festival dedicated to gastronomy to musical events is dedicated to the show, so if you're planning a trip to Ireland, the advice is to inform in advance to select the activities in which to participate.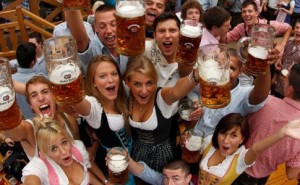 In Ireland, for example, between late September and early August you can experience the atmosphere of a typical Bavarian Oktoberfest with 'Oktoberfest Dublin 2012'. This year, as has become tradition, between 20 September to 7 October at George's Dock the tents, the marquees, the traditional market, music, gastronomy and authentic Bavarian beer reproduce the authentic atmosphere of the Beer Festival.
From 19 October to 4 November, however, will take place on Belfast Festival at Queen's – 50th Anniversary, more than two weeks of music, theater, art, film, dance and cabaret in the heart of the ancient and historic University of Belfast.
While for music lovers, October 26 to 29, will be held the Guinness Cork Jazz Festival, one of the most popular cultural events in Ireland and one of the best jazz festivals in Europe.