Many of us with young children may look longingly at the travel deals to exotic or interesting locations, but the thought of traveling with children can be daunting to say the least. It's very tempting to put off that much-needed vacation until the children are older or even have left home and it's just the two of you again.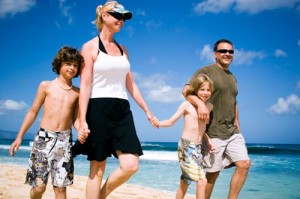 Yes, You Can!
Although it may take a little extra planning, traveling with small or young children can be a rich and wonderful experience for all of you. Even if your children are too young to fully appreciate the experience, they will notice your "vacation mood" and become as excited as you become by the experience. The experience of holidaying with family will be part of their bank of childhood memories and for school aged children especially, can be an important educational experience.
A Little Forward Planning
Most of us don't have the luxury of having a private nanny looking after our children. Most popular destinations however, can provide free activities for the children that will mean you won't need one. Some hotels include baby concierge services and many resort children's clubs are exciting adventures for children; and if they are used to being in childcare, kindergarten or school they will love the interaction with the other children in a safe and fun filled environment.
If you are thinking of taking your children on vacation with you spend time with your travel agent discussing options that provide child friendly activities. As you will quickly discover, whilst you may have to modify your destination choices, you don't necessarily need to put them on hold. The options available are vast and include ocean cruises, island holidays, castles and other exotic accommodations. You don't have to only think of popular family destinations to take your children on a holiday of a lifetime. The variety of child friendly destinations is steadily growing.
What about the Flight?
Even if each family member is being catered for in the plans, the flight itself often causes most of the problems. Long hours in lay over lounges with children who are tired, frustrated and bored is every parent's nightmare, but it's heartening to hear that the number of overseas airports that provide free facilities for children is growing and it's worth exploring this option for travel.
Whilst it's difficult to know how the children will travel during the flight, anticipating potential problems will help reduce their impact. Spend time researching ideas that have worked for other parents. Your travel agent can help you choose a flight and seating arrangements that will give you all a comfortable flight, including some ways to help keep your children occupied on the trip.
Traveling with children on vacation can be rewarding and enjoyable for all the family. Don't put off visiting those destinations you have wanted to visit for a long time just because you have children. A little planning and that dream vacation can be yours sooner rather than later.