Grand Central Station, one of the most visited places in New York City, after the Statue of Liberty and after the Empire State Building (now superseded by the new Freedom Tower), one of the 10 most beautiful railway stations in the world, the station with multiple platforms in the world (44), in fact it is not called Grand Central Station, but Grand Central Terminal.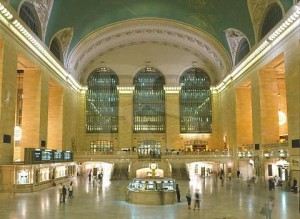 There's always people, perhaps more tourists than passengers last year, Travel+Leisure, has estimated that the Grand Central, as it is commonly known among New Yorkers, is annually visited by 21.6 million people, and in fact one of the most visited places the world.
Opened in 1871, the docks are housed in the two lower floors, along with restaurants, fast food, shops, delicatessens and bakeries, newsstands, and even a gourmet and a market for fresh food products. But it is the large main lobby, immortalized in many films and TV series, the place that everyone knows, and everyone is trying to take at least one photograph.
At the center of the atrium is the information office, in case you need assistance to travel, on the site of the Grand Central, find the map, the app ($5), as well as information for a DIY tour. But if you want, you can take advantage of guided tours of the MAS in New York. 1 hour and a half tour, every Friday, from 12:30; suggested retail price, $10.