Are you going away to an exciting and relaxing vacation? One of the most stressful parts of a vacation is packing and knowing what to bring, especially if you booked a last minute travel deal or an all inclusive vacation. Here's what you need to pack for a relaxing, enjoyable vacation: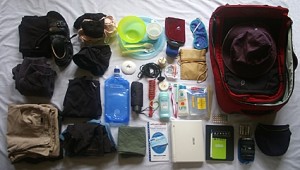 Clothes:
The most important thing to bring on vacation are clothes. Make sure you pack for the weather and do not bring anything too heavy. For tropical vacations, bring swim suits and flip flops along with a beach tote. Lightweight clothing such as shorts and dresses are great because you'll be able to feel comfortable during your vacation. If you're going to be going out to dinners, bring a few nice dresses. But always remember to not over pack!
Toiletries:
A vacation without toiletries may be very uncomfortable and stressful. Although the hotel may provide you with some, it's important pack small amounts of shampoo, face wash, and anything else that you feel comfortable with. If you're going to be out in the sun, always bring sunscreen because your vacation will be ruined if you get a bad sunburn. Bring simple items that don't weight much that way you can stay organized and neat throughout your vacation.
Pleasure items:
It's always important to bring a few pleasure items that will make your vacation even more enjoyable and stress free. This means you can bring books, snacks, music, a sleeping mask, pillows, chargers, and of course extra money. Only bring a few items that you can use in your hotel room or when you're out and about. Things like money is important to bring in order to pay for luxuries. Another great item to bring is a camera, to capture your fun moments and look back on it later. Try to stay away from laptops and such because they can take away from your relaxing vacation.
Your vacation will be relaxing and memorable if you pack these important items that are easy to carry and will be great to use no matter where you are. Packing should no longer be a hassle with these top three packing tips for you!