Near Jerusalem, 85 kilometers from Tel Aviv, the heart of a mountainous landscape cut by steep gorges, the Dead Sea is actually a saltwater lake located in the heart of the Middle East, between Jordan, Israel and West Bank. The Israeli coast is the most popular because many tourist facilities have been completed and the sites offer modern comfort while allowing discovering the vast cultural heritage of the country.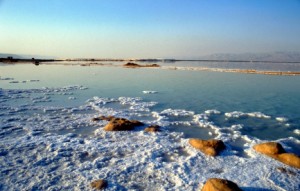 With an average salinity of 24%, no fish or no alga to survive in the waters of the Dead Sea and it is from this peculiarity it derives its name. This high salinity also results in a high density, so much a human being can float on water without a problem. It is, against dangerous and almost impossible to swim: the direct contact of water with the mouth or eyes may indeed be harmful.
The peculiarities of the water of the Dead Sea give healing to many different elements that surround it: the air contains more bromine and has calming. In many cities, particularly in the south, in the spa resort of Ein Bokek, you can enjoy many treatments using mud from the Dead Sea in sumptuous spa or swim in pools with healing. The therapeutic muds, rich in minerals, are advised to treat pain or to purify the skin. The natural hot springs with a very high salt concentration are also used for therapy, with many healing properties.
Choose the Dead Sea as a holiday destination, it is also offering a wide range of activities between a land rich in history and culture and impressive landscapes that are home to a fragile ecosystem: safari inland, tours of the fortress of Masada or the city of Qumran, walks along the beaches, explore the ruins of the messianic sect were discovered where the famous Dead Sea scrolls (religious manuscripts hidden 2000 years ago).
Masada was the last place where people took refuge to Jews facing the Roman invaders in the 1st century. Two years of siege put an end to Jewish independence… a story that traces a sound and light very rewarding. Along the road that leads you to the site, watch the Mount Sodom, a mountain of salt on top of which stands a rock at the pictorial form of a woman.
South of the Dead Sea, enjoy a day trip to discover the oasis of Ein Gedi, Nahal David and Nahal Arugot with their freshwater ponds and tropical vegetation protected. It is possible to make hiking very pleasant simultaneously enjoying the sunny climate and vegetation cover.
Thanks to 330 days of sunshine per year, the essential accessories for your stay will be sunglasses, protective cream, a wide-brimmed hat and of course a big bottle of cold water!