This year for your holiday at the sea, try snorkeling, accessible to all activity and that will leave you unforgettable memories!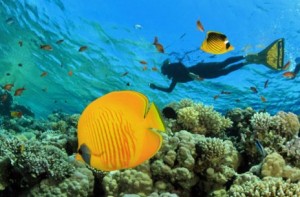 Snorkeling or free diving is to observe the seabed in shallow water, with a mask, fins and snorkel only. This mode is particularly interesting diving in warm waters and lively tropical seas.
You will be able to observe many species of fish directly by sunlight, and the famous sea stars, corals, octopus, and others. Snorkeling not asking to dive deep, it does not require special training and is quickly accessible to tourists.
You just need to find good places to dive and to keep a few safety rules and environmental protection to be able to try it.
This is for example the security never go alone, always monitor your children, you provide information on species frequenting the premises and for the respect of the environment not to take, kill or disturb species living in the marine sites that you visit.
In Thailand for example, you can spend several days discovering the wonderful species that live near the island of Ko Tao in the Gulf of Thailand.
If you want to go as far, you can choose Red Sea, famous for its waters where there is a wide variety of endemic species, which can not be found anywhere else.
Find a vacation near the most beautiful seas of the world and try your hand at snorkeling!