Stockholm is the capital of Nobel Prize winners, which is awarded scientists, writers, economists, men and women who have made a difference in the world bringing considerable benefits to mankind. In Stockholm the Nobel Prize award ceremony held in the Concert Hall, an example of neoclassical art and architecture, and home of the Royal Stockholm Philharmonic Orchestra, can be visited through guided tours (entrance to the hotel and the tour cost 70 kr).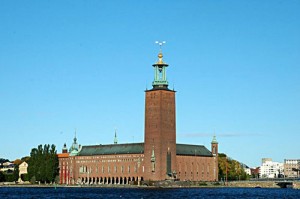 If the Concert Hall that the Nobel Laureates receive their recognition, the Stockholm City Hall, designed by architect Ragnar Ostberg, to host the reception of the Nobel prizes, with a banquet in the Blue Hall and the grand ball in the Golden Hall. You can access the Stadshuset only through guided tours, tours are offered in several languages and the cost of the tour is 90 kr.
Once you have received the Nobel Prize, the award-winning ends the list updated at the Nobel Museum in Gamla Stan. The museum is housed in the old stock exchange and is open from mid May to mid September, every day from 10 to 17 (Tuesday 10-20), from mid September to mid May on Tuesdays from 11 to 20 and from Wednesday to Sunday from 11 to 17, entry fee 80 kr.
In the museum you can learn about the history of the award since its inception. At the entrance to the museum parade through the portraits of the award-winning, keep their personal belongings, and records of officers award speeches, an interactive system favors the consultation.