Bastei is a spectacular rock formation of the Elbe Sandstone Mountains, a low mountain range on the border between the Czech Republic and Germany, crossed by the river Elbe, over one thousand kilometers, one of the longest rivers in Europe. The Bastei are located within the park of Saxon Switzerland, always been a destination for mountain lovers.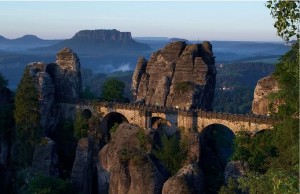 These rock formations, which at this point almost two hundred meters in height, for hundred years are known for the spectacular panorama that offer visitors. Already in 1824 a bridge was built of wood, in order to facilitate the tourists, replaced in 1851 by this stone structure, known as the Bastei Bridge, in fact one of the most visitors to the Saxon Switzerland.
The Bastei bridge in Saxony is located not far from the fortress of Konigstein, also known as the Saxon Bastille, 40 kilometers south of Dresden, 150 km north of Prague.