New York is an amazing city. A city that is worth to walk not to miss anything. That is why, before you travel, should be planned very well every day to make every hour.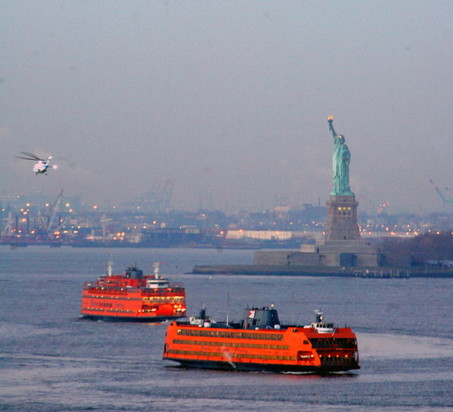 For New York, unlike what many think, has many possibilities to enjoy it without spending too much money. Sure, we are not talking about the most famous attractions, but if what you want is to save but still knowing in depth, we must pay attention to the following tips on destinations and activities available free of charge:
Staten Island Ferry: This boat provides the ability to travel without spending a euro. One recommendation is to get on board when the sun begins to fall, to enjoy a beautiful sunset behind the Statue of Liberty. Meanwhile, if you want to know Staten Island, rushing to catch the ferry back to Manhattan to enjoy the spectacle offered by the lights begins to illuminate skyscrapers.
Harlem Masses: Sundays are the days when the faithful attend the temple and in that sense, Harlem offers an option for travelers. Baptist churches is that their gospel choir feature is a show in itself. So in addition to knowing the culture, customs and rituals, excellent voices will be heard with an incredible pace.
Crossing the Brooklyn Bridge: both going and back, the bridge can be crossed on foot. A tip is to get to Brooklyn by subway, go Brooklyn Highs and beautiful architecture, enjoy a wonderful sunset and appreciating riverfront skyline of Manhattan and heading back to his feet as the sun falls and New York begins to glow.
Central Park: The park is really amazing. Worth traverse, have a picnic and use it to rest. Enter there whenever you can and thus away from the bustle of the city.
The New York Central Station: It is an attraction in itself. As often seen in movies or television series, those who wish may cross it on their own or as part of the free walking tours.
The Public Library: It is a symbol of New York. You can enter for free and appreciate its beautiful interior. Also … have free internet!
The New York Court: It is an imposing building which offers free tours by reservation.
The Town Hall: A building from the early nineteenth century can also be visited by appointment and without paying a single euro.
Museums in New York: The reality is that most museums charge entry fee. But there is advice we can give and has to do with the rate recommended or suggested. Of course, since most establishments allow visitors to pay what they want or can. It suggests a fee and, upon arriving at the ticket office, each one sets a price equal to or less than what the posters suggest. That's a good way, at least, to save a few euros. Some of the museums that offer this possibility are The Met and The American Museum of Natural History.