Looking for a quick and easy way to travel without the hassle of traveling with noisy passengers? The perfect solution for you would be hiring a charter plane.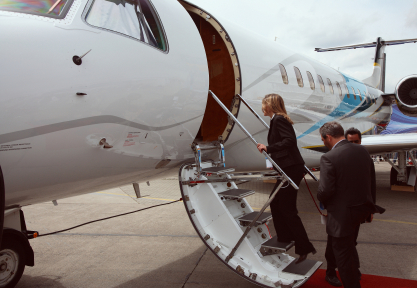 Charter planes let you travel domestic as well as international. With charter planes you don't have to worry about checking in ahead of time. Charter planes let you travel privately and in a comfortable manner. This article tells you what all things need to be considered before you hire a private jet charter. Keep these things in mind, and you'll definitely be able to make the most viable choice.
Cost
The first and foremost thing that needs to be considered is the cost of traveling. If you're traveling on a budget, ask different charter companies about the prices and compare them before you hire a plane. You will also have to see whether the charter company that you selected takes off from your local airport or not. This can be confirmed by asking the airport authorities. Find out about the cost of gas in the countries that you'll be traveling through, since the expenses are ultimately borne by the customer. One should also ask the charter company if any other charges will be levied on arrival or before takeoff.
Size of the plane
The size of the plane also needs to be determined. See the number of people that are traveling with you. Different planes can accommodate different number of people. For example a small plane can accommodate about five to nine people, a medium sized plane seven to nine people whereas larger sized planes can accommodate up to 16 people. Smaller sized planes are always the best option since they can help you reach your destination town or city closest. Not every small town has an airport that can let jumbo planes land.
Security and safety
While this may seem like a burden, checking the safety and security of the charter company is extremely important. This can be done by asking the charter company to show their maintenance records to see how well maintained their planes are. The customer should also ask the charter company to use an experienced pilot. The customer should see the pilot's experience level and license before they hire the plane.
Documents and rules
One should make sure that all their documents are with them since every country has different rules and regulations that are followed. Preparing in advance helps you enjoy your trip and avoid unnecessary hassles. All documents that will be needed for departure as well as arrival should be kept in a small bag and kept close to you at all times.
Baggage
One massive advantage of hiring a charter plane is that you don't need to check-in your luggage and then wait for hours to get it back on arrival. When you charter planes, it can be shared with a few other people as well. So before you board the plane, make sure everyone's luggage has been screened, since you would be traveling with strangers.
Certainly, a chartered flight is a world of luxury and convenience. Of course, you can ensure that your experience of flying in a chartered flight turns out to be perfectly enjoyable by keeping the above mentioned issues in mind.