Address must be for those who love to stay in nature, and maybe remind some moments of childhood in the garden when someone had built the tree house a dream for families, Tree Hotel is a hotel of 24 rooms spread in the Swedish forest near Harads. Each room has been designed by a Swedish designer-of course-and there are housing solutions to suit all tastes.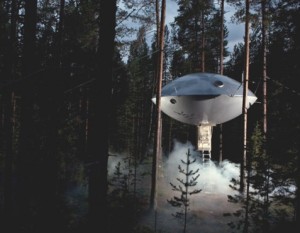 What you see in this UFO room; a perfect circle of 30 square meters suspended between the trunks which is accessed by a ladder (very Mars Attack!), Which can accommodate up to 4 persons (2 adults and 2 children ) and also has two bedrooms with pillows that show the spatial constellations, bathroom and living area.
For breakfast and meals go down in the common area of the hotel, offers an original built between the 30s and 50s which offers a restaurant, bar, sauna, TV and internet.
Among other accommodations on the Mirrorcube, cube covered with mirrors that are accessed through runner effect adventure park, The Cabin, the incredible Bird's Nest covered with tree branches, the Little Red Blue Cone.