A location in Lisbon, you will discover the capital and largest city of Portugal. Located at the mouth of the Tagus, it is the most western European capitals and was the starting point of the great expeditions of the fifteenth and sixteenth centuries. Its port, its seven hills, tiles, fado bars and its many attractions will leave you with unforgettable memories.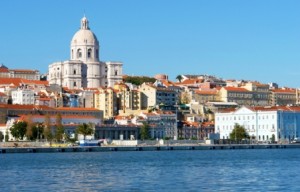 Built on seven hills, bordered by the Atlantic Ocean and the Sea of Straw, Lisbon is a cosmopolitan city. Partially destroyed in an earthquake in 1755, it houses some very old monuments but it is a city full of charm. We visit Lisbon all year round with its Mediterranean climate influenced by the Gulf Stream.
What to see in Lisbon
The lower town or Baixa is the heart of Lisbon. This large commercial district houses to the Rua Augusta, a pedestrian street with cafes, restaurants and shops.
The Alfama is the only district having withstood the earthquake of 1755. Medieval streets and passages lead you to the top of three hills to admire the view and the Patriarchal Cathedral in grandiose and austere.
Bairro Alto is home to splendid mansions of the seventeenth century, but it is also the center of nightlife. To get there, you take the Elevador da Gloria or the Elevador da Bica and visit the Museum de Arte Antiga.
The neighborhood is full of Santa Luzia tile panels and cobblestone streets will take you to the Castelo de Sao Jorge for a walk on the ramparts.
In Belem, you will discover the stories of the golden age of Portugal including the Monument to the Discoveries with its characters watching the ocean, the Belem Tower or the sixteenth century Jeronimos Monastery built with treasures brought to America by Vasco de Gama.
Lisbon has a fifty museums including the Museu Gulbenkian and Museu do Azulejo. Time for a cruise on the Tagus River, you will see the symbol of the city, from April 25, red, such as San Francisco or the Vasco da Gama bridge, the longest in Europe with its 18 kilometers.
Some tips
To visit Lisbon avoids the cars and bikes. It rather provides walking shoes to stroll through the cobbled streets. When you are tired, bus and tram can easily navigate the city and line 28 will take you through all the historic districts.