Trolley, suitcase: the content is often a problem! Here are some tips to make your job easier.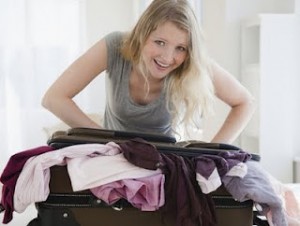 Check the weather before you go: you choose the right clothes.
Never do your suitcase the day before departure: THE clothes you want will probably take dirty! To do it before, also helps better target what to take (on the internet, there are check lists).
Heavy objects placed at the bottom will not hurt the rest of your belongings and fragile items will be placed between your clothes or wrap in it (unless you keep them in the cabin).
Garments rolled in a tube (smoothed out through condensation from the shower), socks in your shoes: hop, instead of won!
Think "interchangeable clothes"! Black pants and flip flops, casual day, the evening will be more stylish with heel sandals and a pretty necklace, as barter for a tee shirt to makeover just in pants or a skirt. Limited different colors will be easier to mix.
By plane, wear shoes, clothing heaviest: Farewell excess baggage!
Your toilet bag is huge? Several small packages (face, hair, makeup) will be easier to squeeze. Think of the samples, formats, "travel" products. Wrap breakable products in plastic bags.
Prepare a mini-pharmacy (paracetamol, anti-itch cream, bandages, anti-diarrheal) with your usual treatments.
A collapsible bag will help you out if your return is overfilled suitcase, like a photocopy of your papers may be useful (not originals with you).
Traveling by plane? Ask your company the weight you are allowed as checked baggage in the cabin, what items you can keep with you in a cabin suitcase or bag, put a change of clothes, wipes, refreshing … if your bag does not arrive in same time as you.