Among the Baltic states, Lithuania, Estonia and Latvia, Lithuania was the first to gain independence, but not before passing through a year of revolt against the Soviet occupiers, between 1990 and 1991, when the Soviet Union finally recognized its independence. Even if Lithuania, which previous year has adopted the euro, had to wait another two years before we see the last Soviet soldier to leave the country.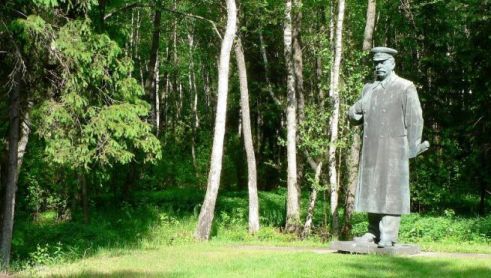 With independence, as well as with the fall of communism, even in Lithuania began to destroy the symbols of the hated power, including statue of Stalin.
Only in this case, a local businessman, the Malinauskas, asked the authorities to grant these "memorabilia", to build a park. And so it was, asked the Lithuanian authorities to grant him ownership of the sculptures, so that he could build a privately funded museum.
A theme park of "Soviet", with reconstruction of a gulag, the notorious prison camp, complete with wooden walkways, guard towers and barbed wire fences. But the park, decidedly unconventional, also has playgrounds, a mini-zoo and cafes, where there are artifacts of the Soviet era. Do not miss performances by historical re-enactments of the Soviet era. The Grutas Park, Druskininkai, 130 kilometers south of Vilnius.