You'd be hard-pressed to find someone who has anything negative to say about chocolate. No matter how old you are, it's downright impossible to hate the world's most popular confection. Whether it's incorporated into baked goods or candy bars or simply eaten by itself, chocolate is a universally beloved treat. That being the case, there are a number of tourist attractions designed with chocolate lovers in mind. As you'll find, however, few of them have as much to offer as Hershey's Chocolate World Las Vegas.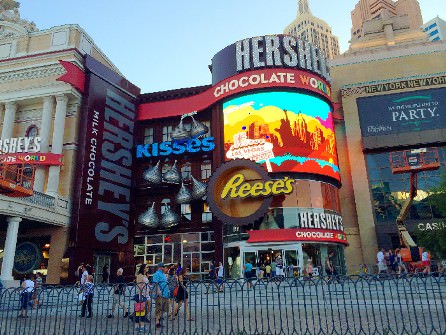 Confections Galore
When visiting Hershey's Chocolate World Las Vegas, chances are sating your sweet tooth will be your top priority. Fortunately, this popular store/activity center has you more than covered. Boasting an unbeatable selection of Hershey's brand treats, Chocolate World is well-equipped to satisfy even the most discerning dessert enthusiast.
In addition to the various candies we all know and love, Chocolate World sells a mouthwatering assortment of baked goods infused with genuine Hershey's chocolate. To learn more about what this chocolate lovers' paradise has to offer, pay a visit to Hersheyschocolateworldlasvegas.com.
Seasonal Delights
No matter when you choose to visit Hershey's Chocolate World Las Vegas, odds are something fun will be going on. Throughout the spring, for example, Chocolate World serves up a tasty smorgasbord of seasonal confections, such as peanut butter eggs and Hershey's famous Perfectly Chocolate Cake. Additionally, the store's seasonal crafting activities provide visitors with the opportunity to create unique keepsakes and make their own sweets-based confections.
Interactive Experiences
Hershey's Chocolate World also offers an entertaining assortment of interactive experiences year-round. If you've ever wanted to make a personalized chocolate bar wrapper or create your very own Reese's combination, a trip to Chocolate World is an absolute must.
Furthermore, anyone who's ever dreamt of producing their own Hershey's commercial will have the perfect opportunity to do so on their next visit to Chocolate World. The store also features chocolate-based recreations of such iconic national landmarks as the Statue of Liberty.
Chocolate lovers on the hunt for a top-notch vacation destination needn't look any further than Hershey's Chocolate World Las Vegas. With an expansive array of delectable treats and a wide assortment of fun activities, it's Sin City's foremost destination for anyone with an insatiable sweet tooth. Whether you're a seasoned chocolate aficionado or a fair-weather fan of confections, you're sure to find plenty to do, see and eat at Hershey's Chocolate World Las Vegas.