Goa is synonymous in the West of endless beaches and hedonistic holiday. There are mixed communities of western hippies, tourists looking for a cheap gold and rest and a permissive local population.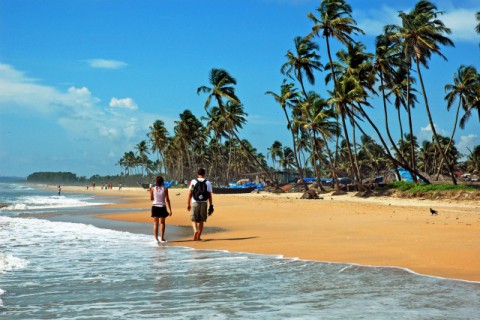 Vasco da Gama discovered the region to the West and to the middle of the twentieth century was for five centuries ruled by Portugal. The former colony following today offers a large number of beach resorts for rest and relaxation and a last Christian left their footprints (today still a third of the population of Goa is Christian). Somehow, Goa is the most mixed with the West India and noticed the Latin influence in the food and customs. For example, in Goa you can buy cheap alcohol, which in the rest of the country is more difficult. In Goa celebrates Christmas and other Christian holidays. Therefore it is a curious blend, a strange familiarity.
The conquest of Goa by tourists started in the 60s with hippies communities in the region saw a place that combined laughable, permissiveness of the authorities, and the promise of a spirituality that believed lost in the West. What were hippies and rock & roll has today given way to mixing techno lovers, tourists who come to enjoy the beach without complications and development in huge resorts designed for tourism of relaxation, in addition to the hippies who have never left the place.
Goa is known for its beaches. Some beaches that attracted much to the hippies of the 60s and 70s, which had marijuana, accommodation and cheap food. Before these hippies were bathing naked, and today it has been banned and even locals go into the water fully clothed. Now Goa is visited by thousands of international tourists every year.
They are also attracted by its monuments and architecture as the Basilica of Bom Jesus, an important place of pilgrimage in Old Goa, as are the remains of St. Francis Xavier. There are many mansions that are used as museums. Certain buildings and temples have been destroyed and rebuilt Indian style. Many markets in the towns of Goa also attracts large number of onlookers.
The flora and fauna of this region are also worth visiting. A little less than half of the total land is forest, which belongs mostly to the state, with very little private property. The Western Ghats are known internationally, and the famous National Geographic magazine has compared Goa with the Amazon by its rich natural diversity. There are a lot of protected national parks within this region.
The most popular festivals in Goa are Christmas, Easter, Ganesh Chaturthi, Divali, or Carnival. This festivals attracts lots of tourist to travel to Goa.
If you want a comfortable and prepared hotels can opt for the larger resorts of Calangute and Baga in north or you can rent luxury villa in Goa. If you want to opt for something cheap and basic are the towns of Anjuna, Vagator and Chapora, and if you want to spend even less and live in a hippie community similar to those of the 60 can go to the fishing village of Arambol, which offers few amenities and beaches.