Russell Square Park is a place not well known in London, and that by its small size does not happen to be of the best known parks in the capital. But it is a very "charming" and recommended park especially if you visit the nearby and essential British Museum.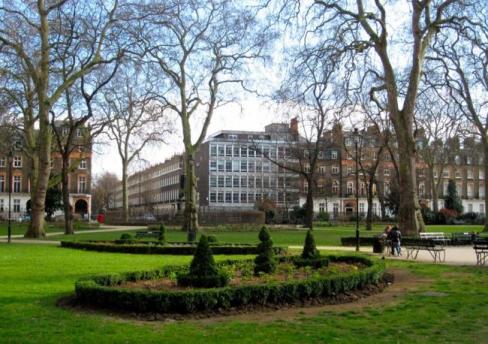 A few meters from the museum, near the famous Hotel Russell, is the park where the sleepers rest by squirrels, take a lunch or relax as we see Londoners do, reading the newspaper or walking with children.
This square and public garden in the Bloomsbury district was designed in 1800 by landscape architect Humphry Repton (1752-1818), when the area was made up of large private land and virtually uninhabited.
Immediately after work began on the construction of the buildings around the square. Although in the 1960s the area was redeveloped, in 2002 the park was restored following the original plans of Repton.
A source that comes directly from the ground and seating benches are some of the few "additives" to this space in which to enjoy mainly of green areas and large trees.
Next to the garden is one of the thirteen historical booths for bullock (Cabmen's Shelter) still existing in London, considered protected monuments.
We can see several typical red booths next to one of the entrances to Russell Square. And also faces the park headquarters of the London Social Centre. The stately buildings that surround the square make it that elegant air of the city.
Just on the side also have the Russell Hotel built in 1898 (say their room is identical to the Titanic, not in vain both were designed by the same person), and several lesser-known hotels in the vicinity.
But the main point of interest in the neighborhood is like saying the British Museum. If you think spending the entire day discovering the secrets of the Museum, recommend you take a break and go outside for a while picnicking with squirrels in the Russell Park in London.