The rock of Flydalsjuvet is a perfect place from which to observe the small village of Geiranger, at the end of Geirangefjord, which together with the Nærøyfjord, is part of the UNESCO World Heritage List protected by UNESCO, for its natural beauty. Many people risk their lives to take a picture right on the edge of a rock, 307 meters above the ground. Scary, though incredibly beautiful.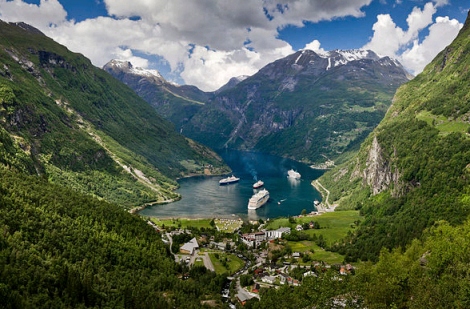 Geiranger is an amazing place. Incredibly beautiful, seen that can boast the most frequented port 3° of Norway, although inhabited by only 250 people. Incredibly in danger, since a tsunami risk due to the slipping of the mountain Åkerneset, in the waters of the fjord. In the worst case, the fall of rocks could be so violent as to cause a tsunami, which can reach in 10 minutes this small Norwegian village.
The photo tells you how this small port was able to achieve this record between Norwegian ports. The cruise ships; many ships, which pass through the fjord between May and September, together with the many tourists who decide to stop in one of the 5 hotels or (2 camping) Geiranger. Among the beauties that you can easily see from the ship, also many waterfalls, including one of the Seven Sisters and the Suitor, facing each other, and that of the Bridal Veil, a thin veil of water, to form a curtain on the rocks behind.