Havasu Falls, are the main attraction of those who choose to hike along Havasu Creek, a tributary of the great Colorado, with which it helped to create the spectacular natural scenery of the Grand Canyon. In this case, we are in Arizona, within the lands of the native Havasupai, the people of the Navajo.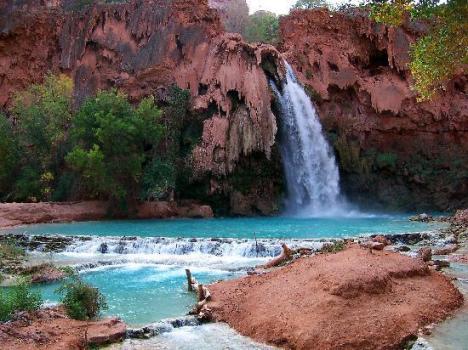 Havasu Falls, just over 2 miles from Supai, is one of the waterfalls that were formed along Havasu Creek; certainly the most visited. Because belle, because swimming can reach up behind the blanket of water falling, because the rocks under the water the color of blue and green, because in front of the falls are of rustic wooden tables where you can have a picnic while admiring these beautiful waterfalls.
Not only has that, after the main basin of the waterfall, the river continued to fall toward the Colorado, between the large natural pools where you can swim the most peaceful and relaxing.
Not high, "only" meters, definitely beautiful, and never equal to themselves, because of the high mineral content of the water, causing repeated disruptions in the bed of the river and the waterfall, this in the course has changed several times during the time.
The falls, but the whole area around the Havasu Creek, and a popular tourist destination, which can be visited alone, but also with the help of guided tours.