Swim with dolphins… a dream that many people immutable wish to achieve or simply relive… So a simple question comes to mind, where swimming with dolphins?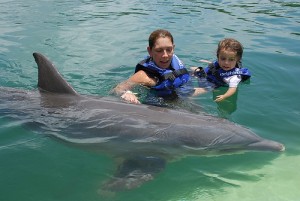 Yes, seas and oceans are vast. Especially today, we can also realize this dream close to home in the water parks.
If you' used to spend your holiday in the south, made a detour to Mandelieu where a fantastic adventure awaits you. In the Pelagos Sanctuary, a nature reserve which was identified nearly 25 000 dolphins, you can embark on a whole day to meet them. The departures are possible from Marseille, Cannes, Corsica or the Lavandou. Still in the Mediterranean, specifically off Marseille, you can participate in scouting by airplane dolphins but also whales and sperm whales.
Swim with dolphins in the DOM-TOM. In Mayotte, swim in the clear waters of the lagoon. Outings are organized to go to the dolphins and humpback whales. On the occasion of this fishing trip, you will kill two birds with one stone by visiting the islets and wild beaches.
This time cape towards the Atlantic ocean, direction the island of Hawaii. Hawaii is as a destination for swimming with dolphins. The island's waters are home to eight species of dolphins with bottlenose dolphin and beaked dolphin. It is on Oahu and the main island where several agencies will propose swims with dolphins in their natural setting. During these excursions at sea, you can also practice diving. Indeed, the holiday in the islands have many advantages. In addition to swimming with dolphins, a multitude of water activities will punctuate your vacation: diving, snorkeling, sailing, swimming…
Egypt, bordered by the Red Sea is world famous for its rich underwater species and coral reefs. It was aboard a cruise you'll get to meet all kinds of dolphins. Equipped with a mask and snorkel, cruise the clear waters of the lagoon where you will probably find more groups of dolphins, turtles, fish, stingrays and a variety of corals.
And for those who frighten the great ocean space, your dream is still achievable. One can also swim with dolphins in pools and water parks.
Vacationing on the Riviera, do not miss the Marineland in Antibes where you finally touch the fingertips your dream! Several meetings are organized in the day throughout the week.
If you want to go on holiday in the U.S. then go to the Miami Seaquarium in Miami where you will swim with bottlenose dolphins, made ​​famous by the series Flipper Lagoon. This entertainment center has recently been expanding its space to swim with dolphins for more sensations.