Of beautiful mountain lakes, in Italy and in the world, we can count a dozen, but how many can boast sparkling waters whose colors are the result of the frustration of a sorcerer in love?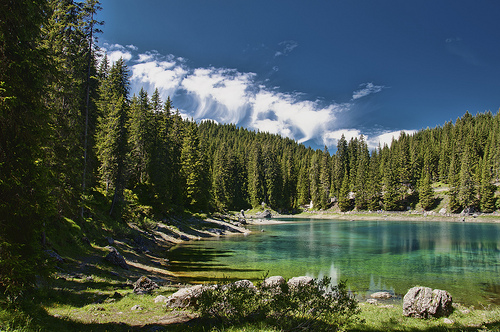 According to the tradition of the Ladin, who have always lived in these valleys of South Tyrol in Italy, once a beautiful nymph named Undine, decided to settle between the pristine waters of this Lake at the foot of the Dolomites. One day, while Undine wove her hair on its shores, the magician Masare tried to capture the nymph that he had fallen in love, by displaying a beautiful rainbow over the lake.
The nymph but did not fall into the trap and fled. The nymph but did not fall into the trap and fled. Masare fury smashed the rainbow in a thousand pieces, which fell into the lake. Since that day in the waters of Lake Carezza are reflected all the colors of the rainbow, and why the lake is also known as the Rainbow Lake.
The lake today is one of the classic tourist destinations of Trentino-Alto Adige. Even in the winter season it is often frequented by divers, who carry out their underwater shots under a thick layer of ice and record the play of colors of submersible water. Near Vigo di Fassa, along the main road of the Val d'Ega.