Tresco – a small green island, with no relief, but decidedly flat. crystal clear sea so that the plane can be seen the details of the shallow water, water transparencies ranging from light green to dark blue, white beaches that border around the perimeter of the island. Definitely beautiful island of Tasco; but where it is?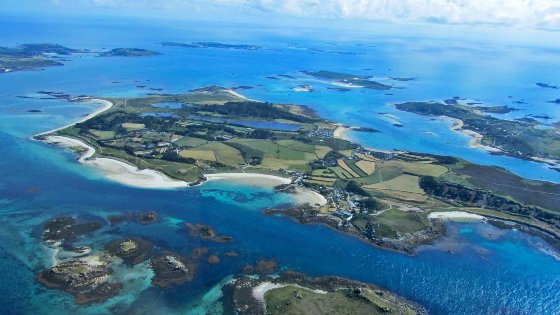 So, in the first instance you might think of archipelago island of the Bahams off the coasts of the United States, but why not one of the 10 most beautiful islands in the Caribbean, as well as Saint Lucia, one of those closer to the coast of South America. Of course, with all that green, it could also be one of those faraway mountain Islands in the South Pacific between South America and New Zealand.
But we are in Europe, administratively in Cornwall, the "horn" of western Britain. Geographically we are in 'Isles of Scilly', a handful of islands of which only 5 are inhabited, some 45 km south west from the coast. And Tasco island, the second largest in the archipelago.
Much of the land is owned by the Duchy of Cornwall, a royal estate intended to provide an income for the heir to the throne, whose discreet presence is indicated by its various real estate properties. A corollary of this is that these islands are much quieter tourist resorts of Cornwall, and are frequented by small and large nobility. This does not mean that the islands are not open to tourism, only that it is necessary to schedule, given the limited accommodation capacities.
The islands; St. Mary is by far the most populated island, with its commercial and tourist center, with the dock and the airport. Bryher, the smallest of the inhabited islands, is wild, windy and charming. St Martins is the most easterly of the islands, and then the more sheltered from the Atlantic storms; here you will find many small businesses to cultivation of flowers. St. Agnes is perhaps the most fascinating of all the Islands, joined at low tide to the island of Gugh (this uninhabited). Tresco, is the second largest island of the archipelago, with an abbey and a luxury resort.