Stadshuset, the City Hall of Stockholm is one of the iconic buildings and, one of the buildings of the tourist destinations, not to be missed during a trip to the Swedish capital.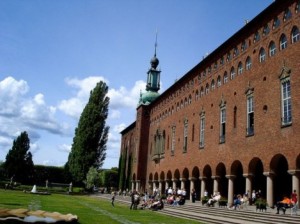 Built between 1911 and 1923 by the architect Ragnar Ostberg, is a perfect example of the National Romantic style, and represents the artistic creativity of the time. The best craftsmen and artists from Sweden, in fact, involved in its implementation.
The City Hall is the political heart of the city, and the seat of ceremonies and important events, such as the banquet given in honor of Nobel Prize winners, so you can access it only through guided tours. The cost of the tour is 11 euros.
From another entrance, on the other hand, it is possible to visit the civic tower of the town hall, where you can admire the magnificent view of the city. To climb the tower there is an elevator that leads to half-height, and then the remaining route to get to the top is to go by foot. Given the limited capacity for each access, it is advisable to book your visit with a little early, perhaps before a visit to the town hall, which takes about forty minutes. The cost of the ticket for access to the tower is 5 euros.