In Langkawi, known as the home of the beaches and most luxurious spa, in fact there are two structures that give views and feelings for those who do not suffer from the height: a 1.7 km long cable car, which starts at the Oriental Village (in the Burau Bay) to arrive at the jungle-covered hills of Machincang Ranges.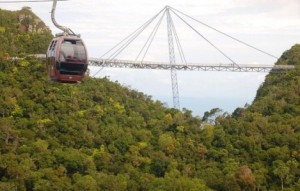 It is a game that some may find too intense: it seems that there are no supports between the two pillars that hold up the cable car, which is why the cabins tend to sway a lot when it's windy.
Another experience but more stable and the Sky Bridge, a bridge 125 meters long and located 700 meters above sea level. We are on top of Mount Mat Chinchang and the pedestrian bridge, which is reached by cable car, is just 1.8 meters wide. But the pitches were prepared to admire the superb panorama, perhaps while enjoying a drink on sale in many existing tourist kiosks.