Are you ski fans? Then you have a reason to fly to Oslo, where you will find a structure that is considered the most modern ski jump in the world.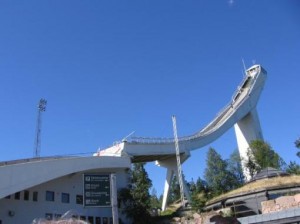 Opened in March 2010 to meet the needs of athletes at the highest level, the Holmenkollen Ski Jump is located in the northern part of the city; rises to 60 feet above the ground and is made of steel, which makes it even more special and unique retail wind design.
Nothing throws for you, but from the top of the Jump Tower you can enjoy the view over the city, and then continue to amaze with the Ski simulator and enrich your technical knowledge with a visit to the Ski Museum which traces the history of the sport in the last 4000 years.
Do not panic by shopping for the most frivolous, this temple of the Nordic sport contains two gift-shops with clothing and typical Viking style objects; and since that moment always comes to the hole in the stomach, there is a cafe for light meals and light with terrace overlooking the fjord.
From October to April the Ski Jump (which is illuminated at night) is open every day from 10 to 16, from May to September, closes at 17 and from June to August the times are from 9 to 20, the ticket for adults is of 110 Norwegian kroner (about 15 euro), about half for children.