We're nearly there, days inaugurates the new skyscraper in London otherwise known as The Shard; and perhaps because of this news comes a architecture: the skyline of the capital knows no rest and soon will be enriched with a new, very high element. Code Name: The Scalpel.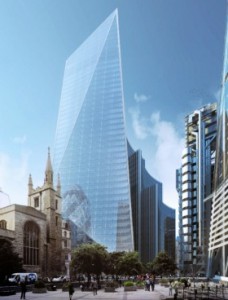 The project was designed by Kohn Pederson Fox (author of the Heron Tower) will have 35 floors (some say 38) for a total of 190 meters (on this, all agree), as you see in the image, the form is not leaves room for too many doubts; it is just a kind of giant chisel. The British trend in short, it's a pop-up metropolitan buildings sharp; and wonder if in reaction to such angularity, there never will be a turn towards a style rounded and sinuous.
Of course, ensure the Londonist, this project is an explicit homage to The Shard, which from the end of its embodiment and immediately became one of favorite symbols of the city by its inhabitants; is therefore likely that many others come from sharp and geometric tower blocks that fit together like magic between buildings and Victorian churches.
Meanwhile, to enjoy watching The Scalpel should wait until 2017, but if you are a fan of engineering and construction contracts, the date in the coming months is in Lime Street at the intersection of Leadenhall Street.