The Canterbury Cathedral, protected by 'Unesco for its historical and religious value, as well as artistic, and seat of the Archbishop of Cantherbury, spiritual leader of the Anglican church, but also the terminal of the Via Francigena, that lead the pilgrims until Rome. You enter from 9 to 17, from 12:30 to 14:30 on Sunday, and the entrance fee is 9.5 pounds for adults and children 6 to 18 years (free under 6 years old).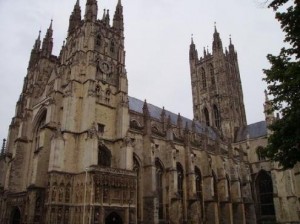 Leeds Castle, six miles from Maidstone, for someone one of the most beautiful castles in the world, certainly one of the most visited castles in Britain, if only for its aesthetic value (inside a maze, a golf course, and a museum dedicated to dog collars). The ticket costs £20, reduced 12.50, and for £15 more you can take the 5 o'clock tea, accompanied by sandwiches and pastries.
Penshurst Place is a palace belonging to the family that was the birthplace of William Sidney, the last British governor in Australia. The property, one of the last examples of the genre from the Middle Ages, and open to the public, in addition to neither various rooms, nor one can admire the garden and the family museum, which preserves the games of at least six generations of Sidney. Entrance is £10 for adults, £6.2 for children.