Stay in New York: Room Mate Grace Hotel
The Room Mate Grace Hotel of New York is located in the heart of the tourist center that tourism cannot be more of the city, just steps from Times Square, the loved-hated tourist trap where all visitors shoots for the first taste of the Big Apple.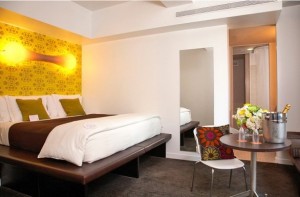 Times Square aside, the location is really interesting, everything is within walking distance, such as the Central Park 5th Avenue. And the hotel is really nice: the rooms are clean, spacious and tastefully decorated, the common areas are very nice and the pool adds that extra edge that differentiates it from the classic mega-hotel with a mini-camera in New York.
To all this, add a good reputation and attractive prices: the cost of a double room ranges from about 160 to 250 euro per night. Be warned, however, that the costs vary greatly depending on the chosen period, in other words Christmas or August will cost an eye of the head, a stay in March or October a lot less. But this applies to all the hotels in the city, so…