The Cyclades in the Aegean Sea, more than 220 large and small islands, so called because in a circle around the most important of all, at least for the ancients: the island of Delos. Among the many, Andros, Ios, Mykonos and Paros, also Santorini, the southernmost, the biggest one, the one that Venetians dedicated Santa Irene, hence the name.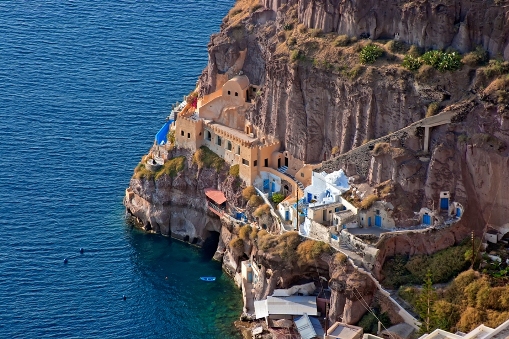 A great volcano that collapsed into the sea, and a rough and tough ground, capable of giving the splendid wines (perhaps from Megalohori, one of the oldest wineries of the island, which in addition to good wine is characterized by an incredible terrace with views Caldera) through the vines of the oldest in Europe, to be enjoyed with care in light of the sunsets on the island.
A breathtaking and truly one of the most spectacular views in the world (try also from the Skaros rock, even at dawn), with blue and white houses of the town of Thira and Oia overlooking the deep blue of the caldera.
And then, the opportunity to make excursions by boat or gulet with a hot and sulfurous waters of the volcano to Palea Kameni, ending with wonderful beaches like the famous Red Beach.
And yet, the most famous archaeological site of Akrotiri, known throughout the world for the famous frescoes of the dolphins or the fisherman, the old Orthodox monastery of Pyrgos and the small but interesting museum of Thera (Fira), to continue with the relaxation beaches of Monolithos, Kamari and Perissa.
Ah, among the things to do in Santorini, it is also to be married having as scenery this beautiful island, but for this we need to really know dreaming.