The building of the Archaeological Museum at the Roman Theatre in Verona is located in the fifteenth century, as the convent of the Gesuati, on the side of the San Pietro hill overlooking over the Roman Theatre; this is closely related to having incorporated some parts of ancient architectural complex.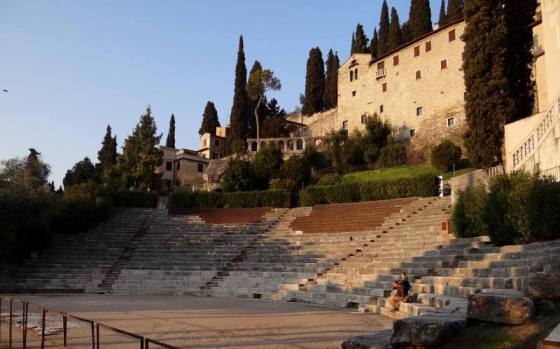 This unique location is an essential element and exceptional visit to the entire complex: the beautiful view of the theater and of the city from above makes it possible to immediately correlate with what is exhibited in the Museum with the external environment.
The recent expansion and retrofitting of exhibition halls were built precisely on the basis of a close dialogue with the entire context. The new Archaeological Museum, rich not only finds of considerable value but also illustrative of suitable equipment, stylish and innovative, aims to become one of the main attractions of the city of Romeo and Juliet.
The spectacular view from the new museum you can enjoy over the Adige and the city, being within the Roman Theatre, the charm of the place, the beauty and importance of the exhibits, and the elegance and staging capabilities, are factors that surely will make the new Archaeological Museum at the Roman theater one of the must-see destinations of Verona.
The museum is open every day from 8:30 to 19:30, on Mondays from 13:30 to 19:30, with the ticket office closes at 18.45. Entrance fees at very low prices, with the entire which costs €4.50, reduced €3, and the ticket for those over 65 even 1 euro.