The Harry Potter stories are one of those rare alchemy that occur only once in many years: human and complex characters, exciting events, a plot that is a continuous discovery and at the same time a journey into an unknown world, that of magic. Thanks to all these elements of JK Rowling's books have managed to win over many generations, charming young but also adults.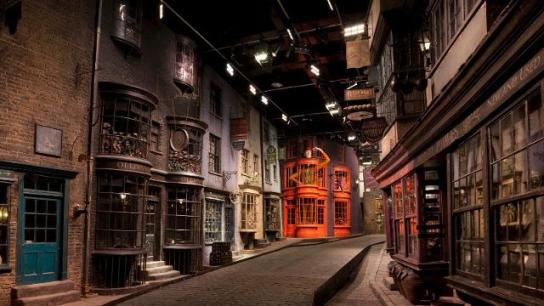 Much has been said and told of the magical world created by the imagination of British author; also near London is a must for all those who regret of being Muggle born. It is the Warner Bros. Studio Tour London, entirely dedicated to the world of Harry Potter.
With a short train journey of twenty minutes from Euston station in Watford or directly from London with a coach, that recalls the beloved Knight Bus, come to the Studios, located at Leavesden, northwest of the capital. At the entrance are immediately waiting for the huge chess that Harry and Ron's face in the first film of the saga, Harry Potter and the Philosopher's Stone. Allured by this "appetizer" just have to go to discover the rest.
And the rest is no less exciting: after a brief introduction of the Studios' team is immediately catapulted the JK Rowling's magical world. The first area is the Great Hall: immense and almost identical to the way we admired the big screen, where we can finally watch live the tables of homes and there, at the bottom, even the long staff table in front of which stands Dumbledore with his lectern. The clothes on display are actually the ones used during the movie!
The trail leads through various rooms that explore the most interesting sides of the story and its background. That's how we find ourselves sneak in the Studio of Professor Dumbledore, to stroll through the cobbled streets of Diagon Alley and admire the disquieting structure of Gringotts Bank and the funny signs of the various shops.
Among the areas that can be seen live also find the Gryffindor common room and dormitories: that strange to be in the bedroom of Harry's and Ron! And that small beds! Thanks to the audio/video guide find out that indeed the beds are really very small … and this created many problems while recording the latest movies. In fact, the room was created when Rupert Grint and Daniel Radcliffe were practically children, at the time of Harry Potter and the Philosopher's Stone, while years later, during the filming of the latest movies, the two boys were just struggling to get through!
The path through the Warner Bros Studios also devotes surprising insights to the special effects and stage make-up. Along the way you can see in action the magical objects that move by themselves in the family kitchen Weasley or observe closely the wax reproductions of many of the actors, complete with dresses and amazing details.