A white column of water 15 meters high, bursts into the semi-darkness of a cave to throw in a blue-green lake and continue the run of the river to the river Isonzo. It is the spectacle offered by the Kozjak, a river which originates from Mount Krncica, in Slovenia, through several canyons and falls into six waterfalls.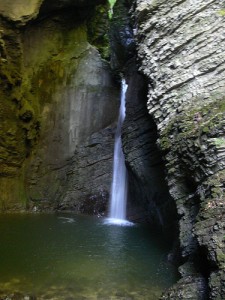 In the mouth of the Gorges below the Kozjak has created the picturesque waterfall in Slovenia- Veliki Kozjak. About 250 feet below the water jump again. The distinctive environment of Veliki Kozjak creates a special atmosphere. The waterfall has worn a sort of underground room, with a pool of blue-green color, while the walls are covered with calcareous deposits, such as in karst caves.
For the lovers of hiking and trekking, please note that access to the waterfall of the Kozjak – considered the most spectacular of the entire Slovenia – can be reached from the road Kobarid – Dreznica. Immediately after the junction to Dreznica at the Napoleon Bridge there is a marked trail from the cartel Slap Kozjak.
The falls can also be reached by following the path of the Path of Peace, created in 2007 to reach and get to know places of the First World War. The trail starts from Log pod Mangartom at the entrance to a mine shaft called Stoln and ends at the outdoor museum Mengore.