There is plenty to do and see in Mauritius, sea apart (really beautiful and diverse) obviously.
The Botanical Garden of Pamplemousses: Known to naturalists all over the world, contains rare species of birds and rare specimens such as sea lilies that can have a diameter of nearly two meters, Talipot and Corypha palms and Victoria Regia lotus flowers.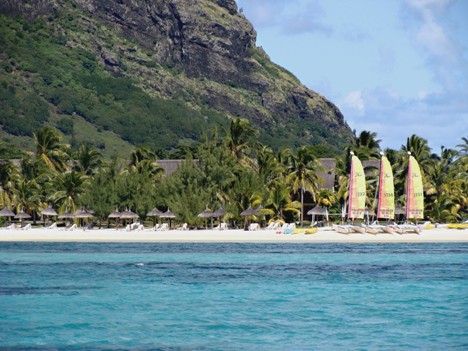 The capital Port Louis, behind a mountain range that protects it from trade winds. Enchanting panorama that can be enjoyed from fortress Citadel, joined the bustling harbor and fun shopping you can do in Bazaar: spices such as vanilla tea, silk, the typical jewelry to model wooden sailing ships.
The excursions by catamaran or schooner: We set sail from Grand Baie to the wild bay of Auberges les Filaos, or from Trou d'Eau Douce, snorkeling in Grand Port and visiting Grand Bois with its deer park.
The landscapes of the south: Rochester waterfalls flow through the fields of sugar cane. In Chamarel, where the land takes on different colors, you can visit the Temple of Grand Bassin and the extinct volcano Trou-aux-Cerfs.
Food tours. Eureka and Domaine les Pailles are destinations for those who love to guzzle. The first is an old Creole house where you can prepare special evenings with Mauritian dishes. The second is the reconstruction of a colonial property of 800 with a restaurant, park and mill.
Shopping. Embroidered tablecloths, straw bags, beautiful models of old sailing ships, cashmere sweaters and many more thinks for shopping. An excellent destination for shopping is Curepipe, in addition to the market in the capital Port Louis.