The second most visited city in Britain after London, Edinburgh is located on several hills that offer breathtaking views of the landscape. And so it is not by accident that you can take good photos like this, built next to the monument to Dugald Stewart on Calton Hill.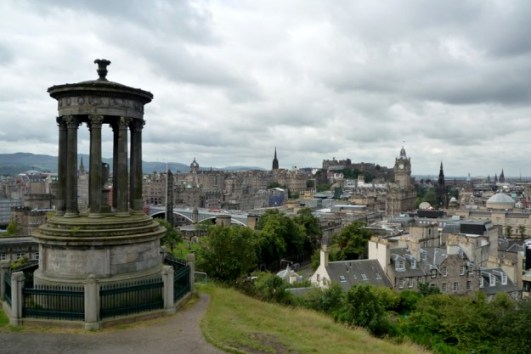 The top of Calton Hill offers pleasant views of the city, and among them you can see Princes Street and Edinburgh Castle. The hill, which is located in the center of Edinburgh in Scotland, it is home to a busy public park.
It is a kind of acropolis full of historical monuments, among them the National Monument, built in memory of the fallen Scots in the Napoleonic wars, and the Nelson Monument, built in honor of Admiral Nelson, who has the form of a telescope pointing upwards. An easy walk, easy, for a splendid view of the city.