Do you need seven reasons to visit Western Australia? For me it would be enough only one: it is in Australia, how many other reasons you want to go to see it? Do not ever understand, but if you really need a reason to go to Australia, here are seven!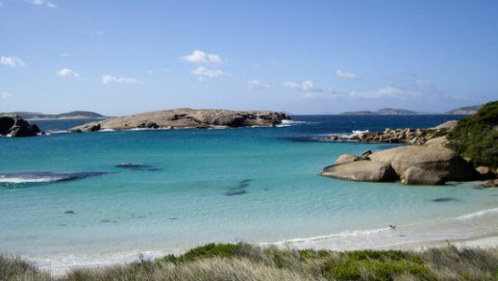 First reason for visiting West Coast of Australia: To Ningaloo Reef you can swim with whale sharks Ok, I agree, maybe it's a valid reason especially for the brave, but from March to July, it seems that here you can see the migration of whale sharks. You can spot them from the boats, but also snorkel and swim with them.
Also on the West Coast of Australia, here you can not miss a visit to Rottnest Island. It is a quiet island, just a few minutes by ferry from Perth, walkable. You can rent a bicycle to explore it and have fun: it has some beautiful secluded beaches where you can sunbathe or go snorkeling to admire the limestone cliffs that surround the island, rich in coral and colorful fish. If you love diving, also here there are at least ten wrecks of sunken ships.
Always within easy reach of Perth, lies the Fremantle Ports. And one of the most fashionable areas of the region, full of cafes, pubs and shops. In fact, the port is still active, so there is always fresh fish. Then there are the beaches where you can stroll and soak up the sun and you can enrich your cultural background making a trip to the picturesque Fremantle Prison.
But do not limit ourselves to go around Perth, visit just Perth. Here is never missing the sunshine and you can also admire the beautiful Kings Park, one of the largest urban parks in the world. Also here you will find the Western Australian Botanic Garden with more than 3,000 species of plants. Remaining part of the culture, the museum is the famous Art Gallery of Western Australia in Perth, with its rich collection of indigenous art, or you could head to the Western Australian Museum. Not to mention bars, pubs and trendy clubs.
Not limit ourselves to swim with the whale sharks at Ningaloo Reef; here we have one of the longest coral reefs in the world. Its peculiarity is that in many places is extremely close to the coast, so visitors can walk or swim to reach it, without having to rent a boat. The wildlife here is wasted three different species of turtles, manta rays, whales, fish of every type and kind, and two hundred and fifty species of coral.
Another reason is the Cape Range National Park, full of pristine beaches and an incredible variety of landscapes: you can walk on pristine beaches, driving on winding roads, passing by the limestone formations and there are even seven hundred caves. Here you can also easily spot kangaroos, emus and a rich variety of birds. The best sightings usually you make them thanks to cruises along the Yardie Creek or trekking along the path that lies on top of the throat.
Finally we have the Purnululu National Park, a picturesque park truly unlike any other in Australia: here you will find the Bungle Bungle Range, with its sedimentary formations beehive-shaped of orange and black striped. It is an absolute must to do a trip to Cathedral Gorge, a huge natural amphitheater. Or you can always go to Mini Palms George, full of palms Livistona.