If you travel to Malta in one of the family is essential stops Playmobil Fun Park, a small theme park dedicated to the very famous Playmobil dolls.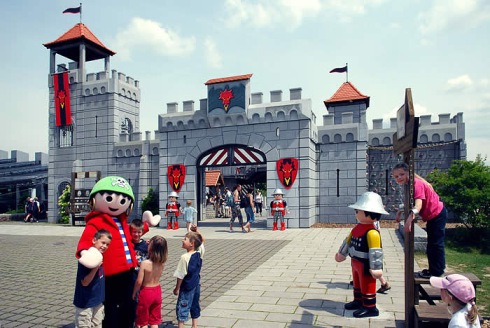 These six-inch figures populate a large room with different scenarios where the kids envision many adventures. In addition, we also have great figures of all ages and occupations, with which kids imagine thousand adventures.
And these dolls are accompanied by animals such as horses and cows in which to ride, or a large crane, a circus and Playmobil farm which can enter the outside of the Playmobil Fun Park, where a playground delights of children.
Actually we are with the second largest Playmobil factory in the world, which stands at the Hal Far industrial estate to the south of the Malta Island. If you are curious to visit, next to the theme park, the large factory, guided visits certain days.
We go by car in the industrial park and indications lead us to the Playmobil Fun Park. Unmistakable with its entry into a castle with battlements and large poster of Playmobil, sat on a throne that sounded the trumpets. Quite a surprise for children and adults!
We are at the entrance to the store where you purchase any figurines and accessories from Playmobil, like the typical Knight of the order of Malta. So far, everything is free.
If we want to visit, we pay a small entrance. Children from one to twelve years pay 2.40 euros and 1.20 euros for adults, unless we go after 1 p.m., when we entered free (if no weekend or holiday).
Inside children are found in a paradise designed for enjoyment and there are also all kinds of facilities for babies (changer, microwave …). It's a small space; pretty familiar (not think of a major theme park) but the kids love it.
In the first room there is a space for children under three years, with sprung floor and pieces that do not pose a danger to them as they play. There is also a cafe where you grab a snack or a menu if the visit is extended.
The schedules of the Playmobil Fun Park of Malta are in winter (October to June) from 10:00 to 18:00 hrs. Every day, in summer, from Monday to Saturday from 10:00 to 18:00 hrs. and Sundays from 10:00 to 13:00 hrs. Many local people visit the place, taking advantage of this is a pretty affordable entertainment.
If you go to Malta with children not miss Playmobil Fun Park to spend a good time and bring a souvenir of these cute dolls in your own scenario.