Malaga is a destination near the sun, on the Mediterranean coast is one of the gems of Andalusia. Malaga is considered the capital of the Costa del Sol in Spain. It is the birthplace of Pablo Picasso.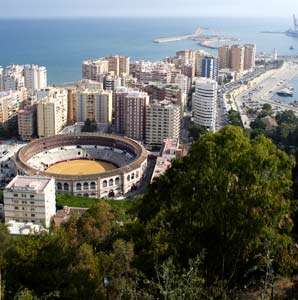 Malaga is a city where you have to go to beaches and bars, small restaurants. But Malaga is not a festive place because you can visit a lot of things at a lower cost because life is cheaper. Linger on a terrace and watch the eclectic side of the diversity of tourists is a real pleasure.
Entertainment side, you can go to beautiful beaches, engage in water sports, also enjoy golf, tennis and horseback riding. You can also enjoy the many parks and gardens of the city. In the evening, nightclubs offer entertaining shows.
Historical side, you should visit the Alcazaba which is a superb fortress which is also an archaeological museum. The Gibralfaro Castle and Parque del Pasea are also lovely walks.
The cathedral of the city known as Manquita is one of the most beautiful Andalusia. Teatro Romano is a Roman theater located at the foot of the Alcazaba. The Museo Provincial de Bellas Artes is home to a large number of major works.
The Picasso Museum is located in his house and he is dedicated to the artist. Finally, you can see the Cathedral Museum, the Archaeological Museum and the Museum of Fine Arts to better know the Andalusian and Spanish art.