Uchisar, an old Christian refuge, the place where you can admire the panorama of the mountains of Cappadocia in Turkey, without having to fly the balloon.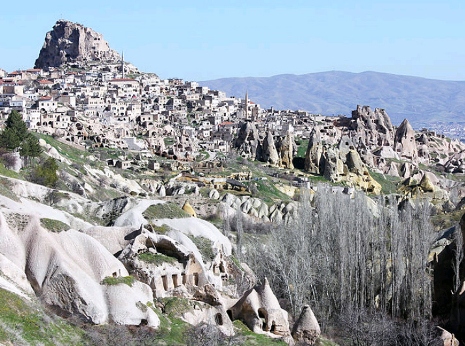 Well, the Museum Hotel is located in Uchisar, near the middle of Cappadocia. Little more than a thousand inhabitants, who live in the shadow of the Kale, the fortress-castle that dominates the town; 1,300 meters to the highest point of the region, visible from miles away.
Labyrinthine fortress houses, which boast an impressive collection of chapels, monasteries and then, ordinary houses, some still inhabited, places for travelers, warehouses or public areas, all interconnected by a network of tunnels that extend over twenty different levels. Here the Christians took refuge in the era of the Muslim occupation.
If you get this far, then you can not climb the rock, walking down the tunnel that leads to the top, where you can enjoy the most spectacular panoramic view of Cappadocia (excluding that from balloons …).
And if you are passionate hikers, you might be interested also to get a "trekkata" of about four hours, along the path and the galleries (preferably with a guide) that come from Uchisar to Goreme. 12 km through the valley of Uzundere, right in the heart of countryside of Cappadocia.