The Crystal Palace park is named after the giant Crystal Palace, which was located in the western part of the park until it burned down in 1936.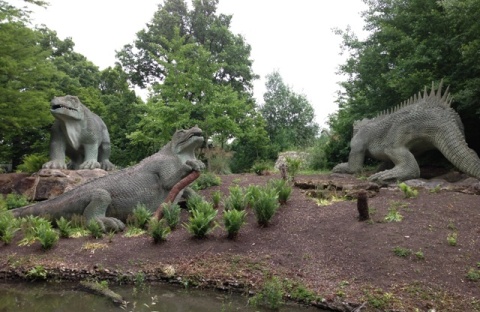 The Crystal Palace, originally built in Hyde Park to house The Great Exhibition of 1851, the following has moved into the area of Sydenham, which at that time was referred to as the Crystal Palace.
Among the large green spaces, and a large sports center, the park is very popular with families in London, mainly because it contains the Dinosaur Court, where among the trees, hills and a small artificial lake, were placed sculptures of dinosaurs and extinct mammals. And since these sculptures date back to 1852, in fact the oldest dinosaur models in the world.
And then the Italian Terrace and the Italian Garden, a beautiful and well-equipped children's area, a cafe with seating inside and outside, a maze, a bike path, many paths where do beautiful walks, comfortable parking lot, ducks and other birds splashing between the statues of dinosaurs, all free, even the parking lot. Good for families with children. Needless to say, Crystal Palace metro station.