On the same flight, each user receives certain services depending on the class they travel. So we can find from narrow seats, less than a playhouse hall, and also without eating, to luxury cars leading to the airport, preferential treatment before, during and after the flight, massages, seats that become bed and private televisions in which choose between dozens of channels and movies.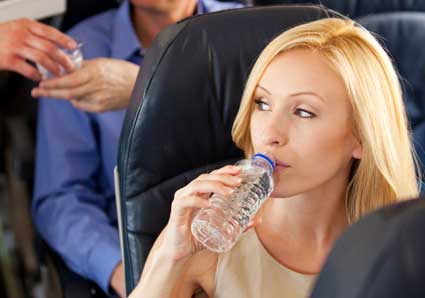 The duration of the trip is a fundamental aspect when choosing one kind or another. Many passengers prefer to pay a higher price – which can multiply up to ten ordinary – to change get more rested and in a better position to your destination. What services are offered in each class to justify the ticket price differences? See more details:
Traditionally, airlines classes have been divided into three: tourist or economy, business and first or preferred – although each airline can call them in a different way. The first class offers more services, and can cost up to ten times more than economy class seats by the same route. Business class, intermediate between the first and the economy class, also offers certain privileges to its travelers face the economic class and more space in the seats, free catering, priority boarding and disembarking or access to lounges. The price of your ticket may be double-and even more, depending on the air company.
Differences between economy class and business class flying
The differences between flying in economy class and do it in business or first class start before boarding the plane, before even arriving at the airport.
While those traveling in economy class usually arrive in their private car, public transport or taxi, airlines put at the disposal of those who fly in their higher classes the possibility of moving in luxury car driven by a driver who picks up travelers at their hotel or own home.
Some companies give passengers the option of traveling in a limousine to the airport. For example if you travel business class flights to sydney from USA the American Airlines have facility to pick you from your hotel.
At the airport differences continue. Travelers with economy class ticket must carry their luggage to the check-in. To facilitate this, they have the possibility of using carts that are freely available to customers. Those flying first class may be accompanied by a personal assistant who takes them to the counter and charge is made for this journey of luggage.
Often, as in the counter, who fly economy class is facing long lines of people waiting to check in their luggage. This does not exist in first class and business class that is provided, both the passengers and their luggage, preferential treatment in exclusive counters.
In addition to carry more weight than in economy class without having to pay for extra kilo, business and first class identify the bags with a special label to be subsequently delivered to its owner a priority, rather than the other passengers. Normally, you can check in 20 kilos of free baggage in economy class and up to 30 in upper classes. China Airlines for their business class flights to hong kong can check in up to 40 kilos without charge. The first and business class traveler also has preferential information points at major airports.
Another service of those who travel can enjoy both business and first class is the VIP room. Unlike travelers with economy class ticket, waiting sitting in the chairs of the airport, the most expensive classes can rest in a special room for them. These spaces have all kinds of amenities for the traveler to work, rest or relax.
The airlines make it easy for passengers who want to work or to relax with computers, free Internet via wifi, fax, or telephone. For those who want to rest, some airlines put available beds to their customers in these privileged seating areas that also have showers service and relaxation areas. British Airways has a free spa at Heathrow airport where first-class passengers can receive different types of massage: anti-stress, relaxation and treatments like facial oxygenation.