The city of Foz do Iguaçu is located in the far West of the Parana State, in southern Brazil. The destination is known worldwide thanks to its impressive waterfalls, the Cataratas do Iguacu.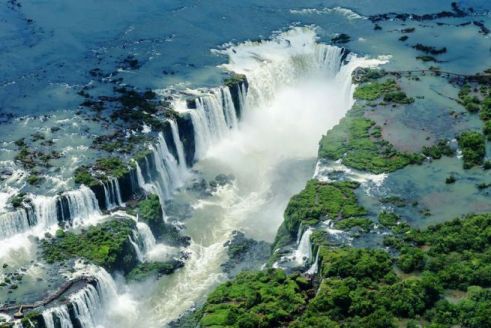 The natural spectacle is truly majestic, with about 275 floodgates where the waters, made white by the rushing stream, fall with a crash from an average height of 72 meters. A real show, particularly exciting if admired aboard one of the boats from rafting whose tour behind the cascades, or from above, on board of a helicopter.
There are several reasons that make the area much loved by visitors, especially those fans of ecotourism. The city of Foz do Iguacu, which currently houses about 265,000 inhabitants and is dotted with parks, green spaces and tree-lined avenue, is a perfect base for exploring the surrounding natural beauty and offers a friendly and lively atmosphere.
First among the attractions is the Iguacu National Park, fascinating ecological reserve that covers an area of 185,000 hectares and since 1986 recognized by UNESCO as a World Natural Heritage Site. The Park is home to 400 species of birds, 50 species of mammals and 257 species of butterflies, immersed in the nature of the Atlantic rainforest.
In the Poco Preto area, you can hiking and biking trails along a path of 9 km which offers unique panoramic scenery including suspension bridges and a boat trip on the river.
In the Iguacu Canyon, instead, the more daring can try out different extreme sports at the various facilities equipped as rope climbing, climbing and whitewater rafting of the Iguacu river. The National Park of Iguaçu has also Bird Park, where you can admire rare tropical birds in a protected area and fully equipped with bars, kiosks and restaurants.
The less daring visiting to Foz do Iguacu instead discovers that the town is home to professional green, in a natural environment and unique geographical. The Golf Club of Foz do Iguacu, for example, features a golf in Bermuda grass immaculately groomed with night lighting for diehard golfers.