Set Ustu in Gulhane Park in Istanbul, is not only a place for tea in the tradition of Istanbul, it is also an excellent vantage point of the Bosphorus; you sit down (preferably on weekdays, so you need not fear "competition" by residents), you order tea, and you will be served with the traditional brass samovar, with strainer, sugar and cups to be filled with tea.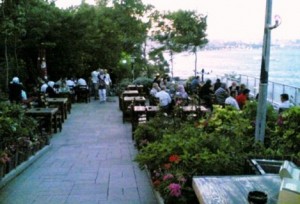 You can relax while sipping tea, but also wanting a coffee or a soft drink, if you are hungry, you can eat meatballs with potatoes, watching the sea, where, if you're lucky, you see dolphins as they pass between two seas, and always, on any day, the wakes of ships; and it is not uncommon for someone to sit down here, with a book in his hand, indicating that it is a regular customer of Set Ustu.
We are in the center of Istanbul's, in the Gulhane Park, the home of the roses, right next door to the Topkapi Palace, which at one time it was the garden. The park, has recently been renovated to make it more enjoyable for visitors.