The photos below you see that – as you've imagined – show the stone statue larger than the world depicting Buddha. It is located near the city of Leshan, Sichuan Province in China.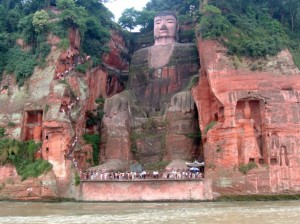 Construction began in 713 by a Chinese monk, to try to calm the raging currents of the nearby rivers. It was completed only ninety years later.
The statue is about 71 meters, is part of the list of UNESCO World Heritage Site and represents Maitreya Buddha in a sitting position, hands on knees.