The Opera House is one of the most important tourist sites in Budapest, is that you only intend to visit the building, whether it intends to only visit the building, whether you want to watch any show, opera, Ballet and concerts.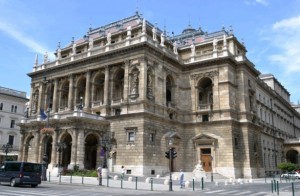 Built between 1875 and 1884, the Opera House is considered one of the highest expressions of the neo-Renaissance style, decorated with items (statues and frescoes) of Hungarian Baroque. Not impressive for its size (it is not the biggest, tallest, the most … for instance), which is also found in its perfect acoustics, which is also reflected in its sound, according to some, that made it famous among the opera houses around the world.
Apart from the external structure, relief, the royal box, the foyer, the main entrance, and the gigantic bronze chandelier. But to find out more, and to be able to fully appreciate, perhaps the best thing is to take advantage of guided tours that are offered in Italian. Two tours, at 15 and 16, which last about 45 minutes, costing 2,900 Hungarian forints, about 10 euros per current exchange rate, with 20% discount if you carry the Budapest Card.
Easy to get there by metro M1, stop, just in front of the Opera House.