Well 5 stars shine above The Danna, a luxury resort with inviting pool and great candid Beach located in Langkawi, an archipelago of small islands and one of the most famous maritime tourist destinations in Malaysia.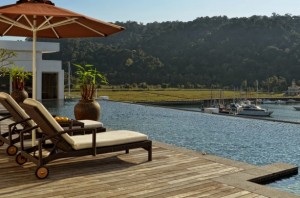 The resort – designed with a Mediterranean colonial architecture – boasts a well-equipped marina, for those who like to turn the boat, a rather large stretch of sand where you can also dine and lush vegetation that stains the surroundings.
Easy to find due to the short distance from the Langkawi International Airport, The Danna offers – in addition to alternate views that luxury and relaxation – the rather spacious accommodations, for those of you just want to be comfortable. One of those named already betrays certain arrogance, calling Royal Imperial: an apartment of several square-feet with fitness center, swimming pool, four-poster beds and 4 seats, plenty of woods and illuminating glass fixtures a harbor view.
Unfortunately, the amplitude of accommodation and the amenities offered at a price, which starts at about 7 thousand dollars one night. But if you do not have delusions of grandeur and you settle for a Merchant Suite you can get by pressing a charge reduced to 300 euros per night.